Northside Jobs
Fighting for aviation workers at the Brisbane Airport
COVID-19 has decimated the livelihoods of aviation workers. Since March 2020 I have called for specific, targeted support for our 6,600 aviation workers here in my electorate of Lilley at the Brisbane Airport.  I know that without aviation workers, Australia stops.
At the beginning of the COVID pandemic as our international borders slammed shut, I wrote to the Prime Minister and Deputy Prime Minister on behalf of the 6,600 aviation workers in Lilley, urging the Government to provide support to all aviation workers. I personally met with the then Deputy Prime Minister, the Honourable Michael McCormack, to follow up on my request.
At every step of the way, the Morrison Government's response to my fight for specific support for aviation workers has been: "Aren't we already doing enough?!"
Ask any Lilley aviation worker, and the answer to that question is – NO!
In May 2020, 5,500 dnata workers were told that they were ineligible for JobKeeper because they were employed by a foreign owned company, despite many of them working for 20 years in the same job on the same shift with nothing changing except the name at the top of the masthead and on a letterhead somewhere far from their workplace.
Not long after that, Virgin collapsed, putting 10,000 direct jobs and 6,000 indirect jobs at risk.
At the start of August 2020, Virgin confirmed that it would cut 3,000 jobs, one-third of its workforce, in order to stay afloat. Later that month, Qantas announced that it was outsourcing the jobs of 2,000 baggage handlers – a decision that has been found to be illegal by the Federal Court.
I am also regularly speaking with union delegates and workers from airlines about the uncertainty surrounding the aviation industry so I can escalate their concerns to the Morrison Government.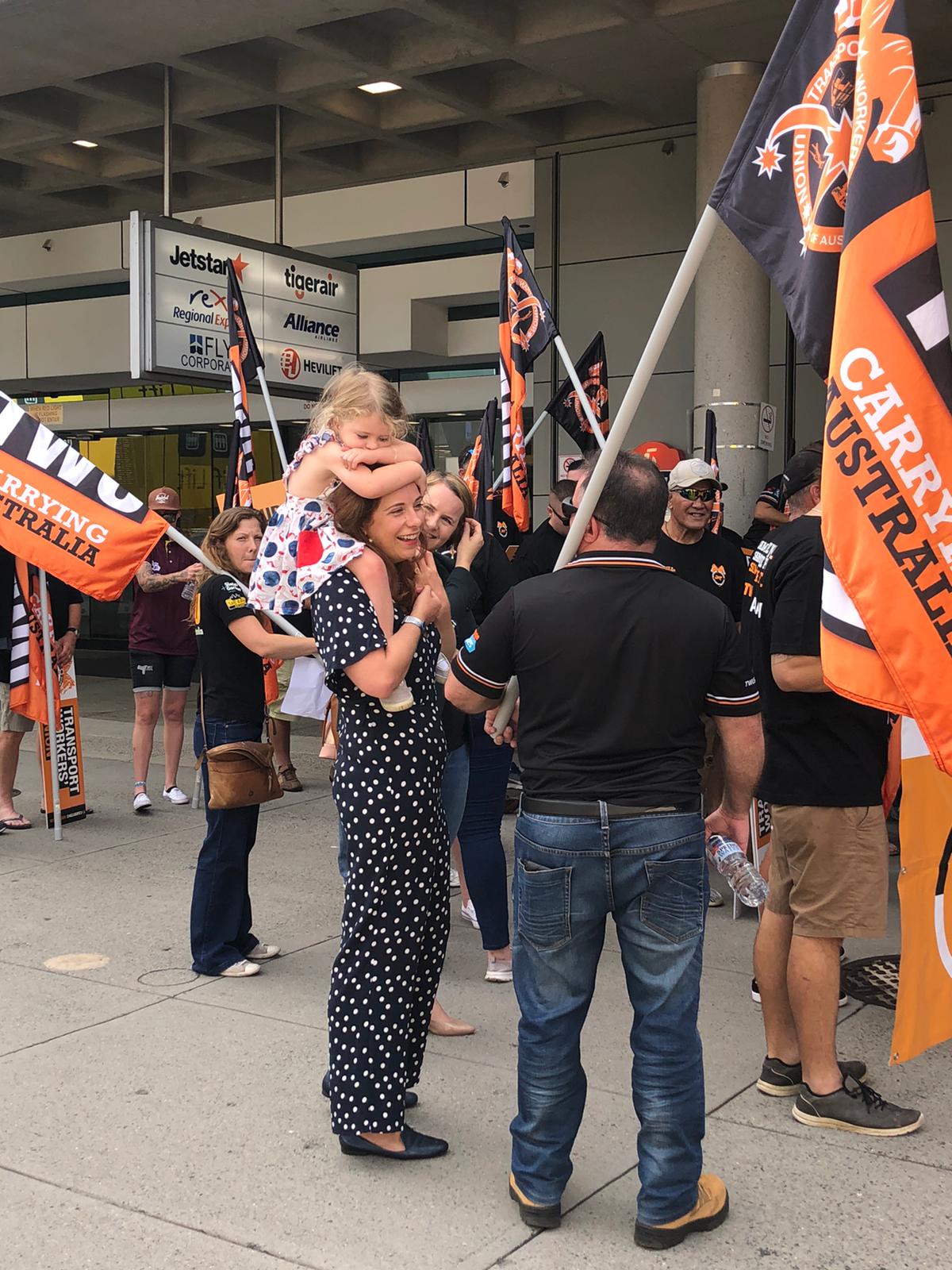 Petition to reinstate Qantas ground crew
Since the Federal Court's decision that Qantas acted illegally when trying to outsource those 2,000 jobs, we have heard nothing from the Prime Minister—not in the media, not in the parliament, not a word about it.
The Prime Minister has Alan Joyce's number on speed dial. He needs to pick up the phone and tell Alan Joyce to reinstate the 2,000 workers who were stood down when it was announced that their jobs would be outsourced to a labour hire company.
I'm proud to stand with TWU in calling on the Qantas board to not sign off on an appeal and urgently give these workers their jobs back. You can join us and sign your name to the letter Qantas workers have sent to the board here.
Rallying with Ovato workers in Geebung
In August 2020, I rallied with Ovato workers at Geebung who were under threat from having their enterprise agreements terminated and pay and conditions cut. These workers fought around the clock in 2020 to support Ovato through the pandemic and in return were burnt by the company and the Morrison Government.
Scott Morrison's Attorney-General at the time, Christian Porter, knew about Australian printing giant Ovato's plan to restructure months before workers and their union were told and did nothing to protect them. On behalf of the workers, AMWU wrote to the Morrison Government urging them to intervene in the NSW Supreme Court case that left Ovato workers without pay and entitlements, but they refused.
A worker at the Geebung site in Queensland said in a public statement: "There are guys here with 35 years of service who have been loyal to the company and suddenly their entitlements are being ripped away. It's disgusting."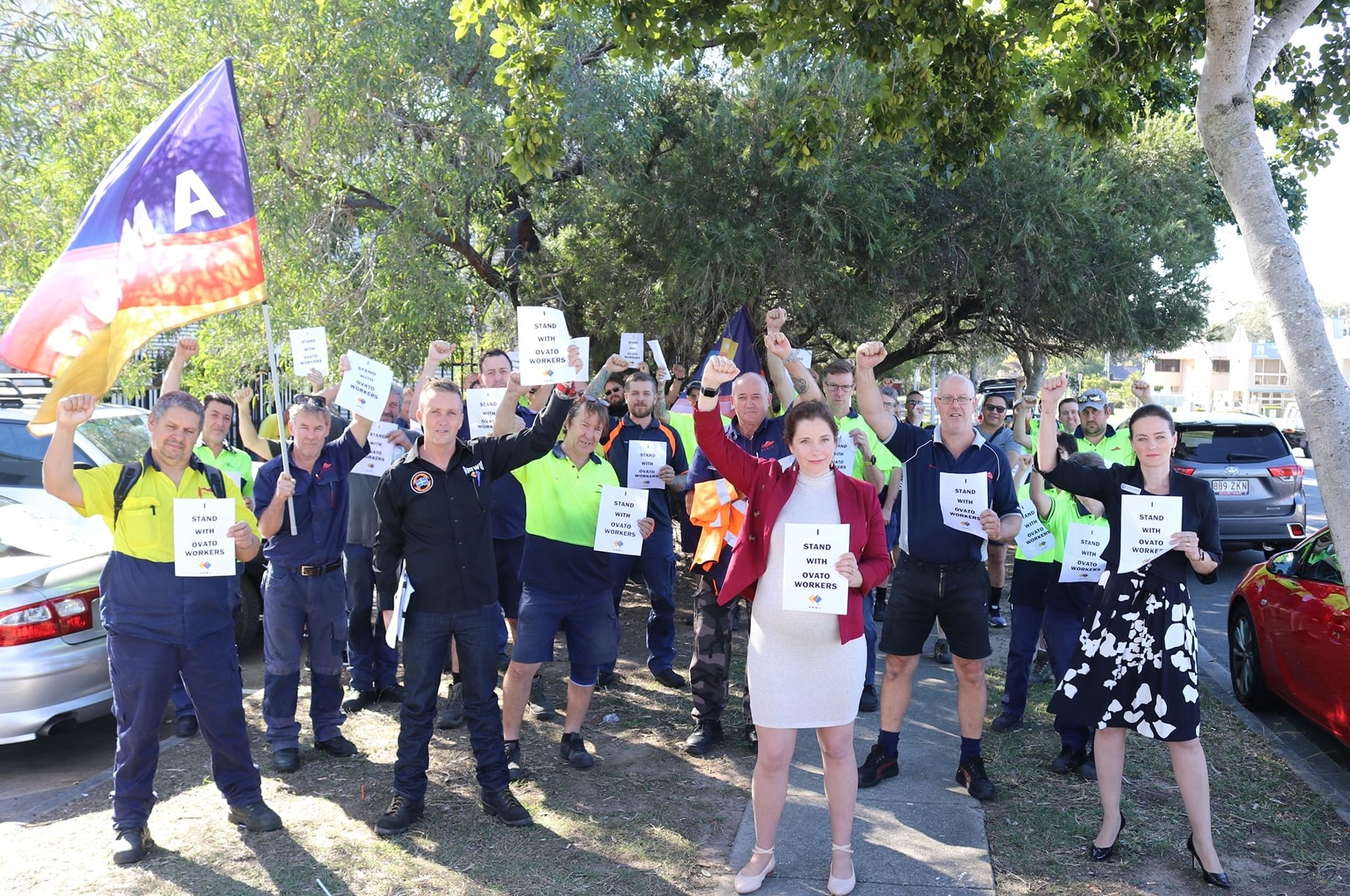 Fighting for Greyhound Australia workers in Pinkenba
In June 2021, I wrote to the Deputy Prime Minister on behalf of 77 workers at Greyhound Australia in Pinkenba. In my letter, I called on the Morrison Government to expand the federal travel subsidy in lieu of reintroducing JobKeeper for tourism businesses that were struggling to stay afloat during COVID. Frustrated by the Deputy Prime Minister's weak response to my letter, I went into Parliament and delivered a speech fighting for the 77 workers at Greyhound Australia in Pinkenba whose jobs were on the line due to the policy decisions of the Morrison Government.
Petition to increase the minimum wage
In April 2021, I met with Donna, a supermarket worker at Taigum Square Shopping Centre, to call on the Fair Work Commission to increase the minimum wage for award-covered workers on 1 July. A decent minimum wage isn't just fair - it's good economic sense. Increasing the minimum wage helps workers who need it most – the lowest paid, mostly casual workers, concentrated in hospitality and retail sectors. It also helps small businesses who depend on Northsiders having money to spend in their shops. Thankfully, common sense prevailed and the Fair Work Commission increased the minimum wage by 2.5% - despite the Morrison Government disgracefully warning against an increase.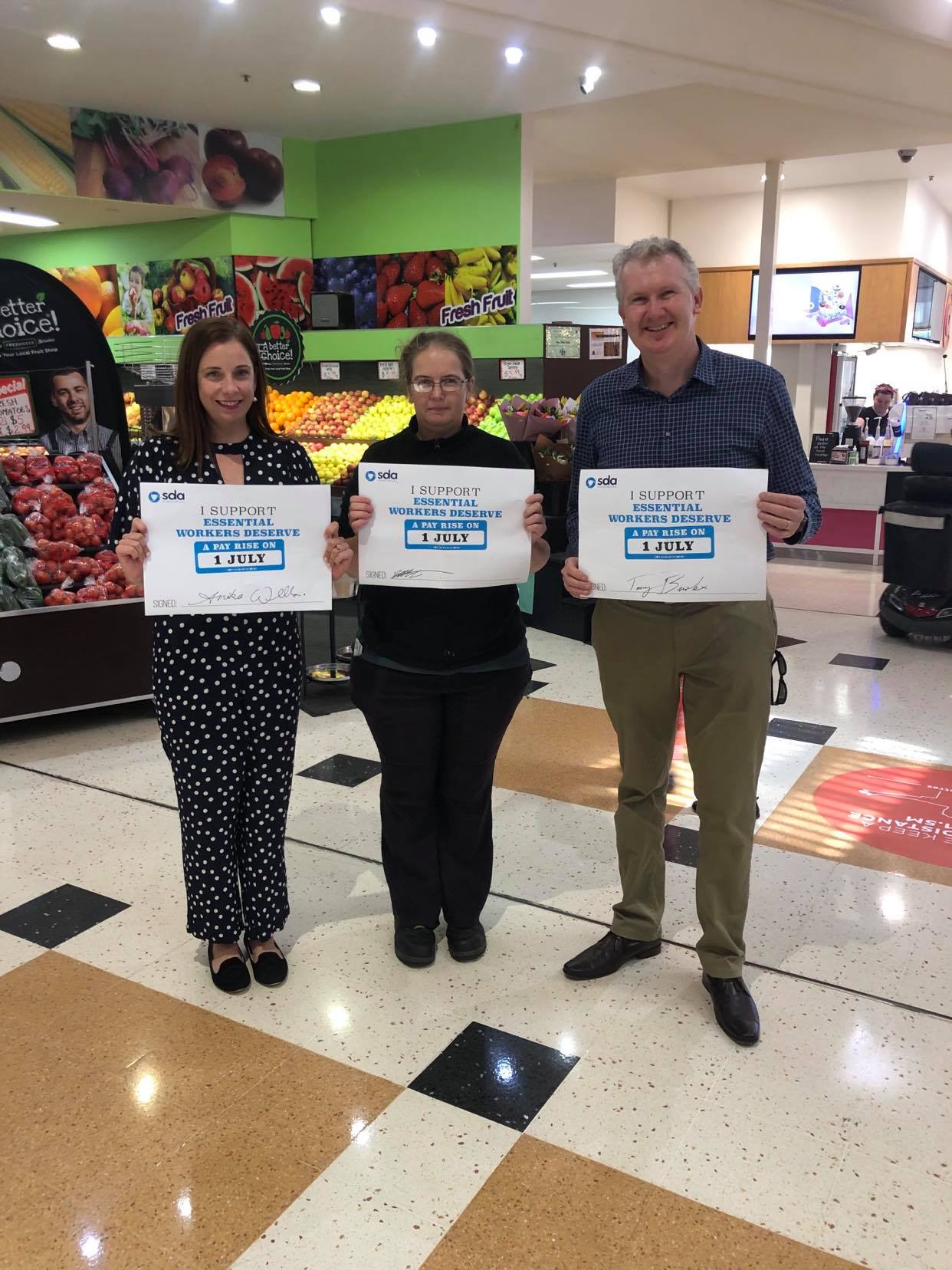 Standing shoulder-to-shoulder with Toll workers on strike
In July 2021, a Northside worker named Chris Smith came to my Banyo mobile office and asked me to sign a pledge to support Toll workers heading to Fair Work to protect their job security, work conditions and industry standards.
On 26 August 2021, I stuck by my word to Chris and proudly stood side-by-side Toll workers and TWU delegates at the Brisbane Airport as they walked off the job site at midnight to begin their 24-hour strike.
During the pandemic, our delivery drivers and truckies have put their lives on the line to keep our country moving and deliver food, PPE, and vaccines.
They've kept our economy in motion when our brick and mortar shops have closed in lockdowns.
Instead of rewarding their workers with job security and safe work conditions, Toll is planning to sell them out in a bid to compete in a race to the bottom with exploitative business models like AmazonFlex,
Toll is trying to do what Qantas tried and failed to do to their workers – scrap their worker's entitlements and engage outside workers on minimal pay and with fewer rights.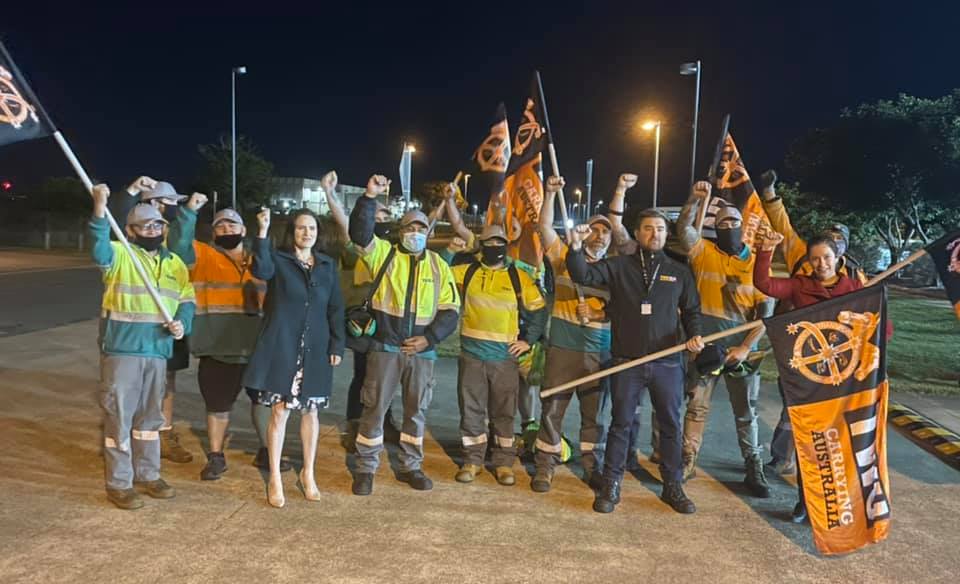 Tackling insecure work and casualisation
Under consecutive LNP governments, the nature of Australia's workforce has been shifting for almost decade. Over one-third of the workforce is currently in insecure or non-standard forms of work. Job insecurity is rampant, directly impacting many workers ability to provide for families and to plan for their future. Wages are projected to decrease over the next few years, while the cost of living continues to climb. Only Labor has a plan to tackle exploitative, insecure work. An Albanese Labor Government will:
Make job security an object of the Fair Work Act 2009 so that it becomes a core focus for the Fair Work Commission's decisions;
Extend the powers of the Fair Work Commission to include "employee-like" forms of work, allowing it to better protect people in new forms of work, like app-based gig work, from exploitation and dangerous working conditions;
Legislate a fair, objective test to determine when a worker can be classified as a casual so people have a clearer pathway to permanent work;
Limit the number of consecutive fixed-term contracts an employer can offer for the same role, with an overall cap of 24 months;
Ensure a Labor government is a model employer by creating more secure employment in the Australian Public Service where temporary forms of work are being used inappropriately; and
Use government procurement powers to ensure taxpayers' money is used to support secure employment.
Fighting wage theft and exploitation
In one of my first speeches in Parliament, I called out the Morrison Government's inaction on wage theft after the Fair Work inspectors exposed the suburb of Nundah as having the highest reported number of wage theft complaints to the Ombudsman in the last term of the parliament. As your federal member I will always fight to protect the jobs of Northsiders and protect honest workers from wage theft and exploitation from dodgy bosses. An Albanese Labor Government will criminalise wage theft nationwide.
Recent advocacy for Northside workers in Parliament
Click the links below to see a few of my recent speeches fighting for Northside workers in Parliament.
Recent advocacy for Northside workers in the media
Click the links below to see a few of my recent media appearances fighting for Northside workers.